---
Shiver Me Timbers!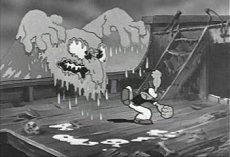 Original release date: July 27, 1934
Popeye, Olive Oyl, and Wimpy run ashore on an island and come across an old wrecker marked, "Ghost Ship – Beware!" Olive and Wimpy don't want to get near it -- but how intimidating can a ghost ship be when it plays the Laurel & Hardy theme as a come-on? Naturally, as soon as the trio boards the ghost ship, it sets sail, and the stowaway ghosts do their best to scare the passengers.
A wonderfully atmospheric "horror cartoon," with lush animation throughout (pay attention to the "ghostly" Olive, among other delights). A real treasure.
My rating:




© 2007, Steve Bailey.
Click here to return to:
Our cartoon-list page
Our home page
---