---
Seasin's Greetinks!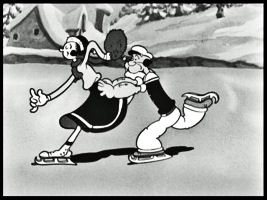 Original release date: Nov. 17, 1933
Popeye brings Olive Oyl a Christmas present of ice skates (which he hammers onto her feet, horseshoe-style -- is he a ladies' man or what?) and teaches her how to skate. Then Bluto enters in his first-ever scene of animal abuse (there will be worse to come), whipping a dachshund ahead of him as though he's leading an expedition. (We know he's a dachshund because in one shot, he switches to being a wiener, literally, in case we didn't get the point.)
Bluto does his usual blunt courting of Olive and punches Popeye, who says, "Dis is a day for peace on 'Oith" and gives Bluto a heartfelt smack on the kisser, which pretty much set this cartoon's idea of a Christmas tone. Bluto nearly sends Popeye and Olive over a waterfall, but at the end, Popeye gives Bluto such a haymaker that it spreads tinsel all over a nearby Christmas tree. God rest you merry gentlemen, already!
My rating:



© 2007, Steve Bailey.
Click here to return to:
Our cartoon-list page
Our home page
---