---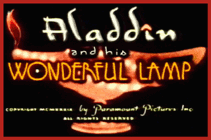 Original release date: April 7, 1939
Olive Oyl is a story writer at the Surprise Pictures studio, where she concocts her own version of the famed Aladdin story. Here, Popeye is Aladdin, a "junke shoppe" worker who is at first tricked by an oily villain (what, no Bluto?) into procuring the special lamp but ends up reaping its benefits himself.
This is easily the least of Popeye's trio of "Color Features." The cartoon lacks the eye-popping splendor of Sindbad the Sailor and the humor and pacing of Ali Baba. Although the cartoon is obviously done on a far bigger scale than the black-and-white shorts, the animation seems a bit stilted.
Most of all, the story seems lackadaisical, as if the "actors" are going through the motions. Popeye is too savvy to be convincing as a naive street urchin. And when he inadvertently coaxes the genie out of the lamp, he doesn't seem any more awed by him than he usually is by Wimpy or Bluto. That's not surprising, either, considering how fey the genie comes off.
The Looney Tunes fellas had a lot more more fun with this concept in Bugs Bunny's A Lad in His Lamp (1949) (and in half the length of this ballyhooed "feature"). And don't even get me started on the 1992 Disney version, where Robin Williams has a field day compared to Jack Mercer's half-baked mutterings here.
Call me a spoiled brat, but this is one bedtime story I'm not dying to hear again. Hey, Olive, time for a re-write!
My rating:



© 2007, Steve Bailey.
Click here to return to:
Our cartoon-list page
Our home page
---