---
I Wanna Be a Life Guard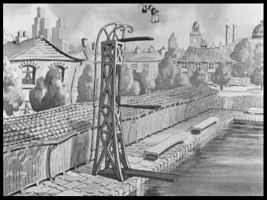 Original release date: June 26, 1936
The community pool needs a life guard. Two locals (ahem) look through the peephole in the pool's fence, see Olive Oyl doing a belly-flop, and decide that this is the bathing beauty they have to impress. (Eye of the beholder and all that.)
So Popeye and Bluto are allowed to compete for the job. If the vote was strictly based on their rendition of the title tune, Popeye (complete with "Mammy!" finish) would win in an instant, but Olive jeers at Popeye because of his old-fashioned bathing suit (and she's the looker, so she should know).
The typical Popeye-and-Bluto whizzing contest is enhanced by the Fleischers' as-always-stunning back- and fore-grounds, and elaborate swim stunts, most of which would put your local lifeguard to shame. At cartoon's end, Popeye is the lifeguard, having turned Bluto into a human fountain after duking it out with him underwater.
My rating:




© 2007, Steve Bailey.
Click here to return to:
Our cartoon-list page
Our home page
---